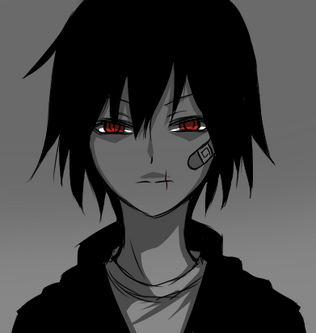 Character First Name:
Gotoh
Character Last Name:
Nara
IMVU Username:
Gotoh
Nickname: (optional)
Age:
12
Date of Birth:
05/21/189AN
Gender:
Male
Ethnicity:
Yonshi
Height:
4'10
Weight:
90lbs
Blood Type:
AB
Occupation:
Gennin
Scars/Tattoos:
Affiliation:
Yonshigakure
Relationship Status:
Single
Personality:
Being under the influence of the Nara Clan, Gotoh was a very quiet, lazy ,sleepy person. He was known as always the coward in the group and never really wanted to fight, or anything else that involved effort. It didn't matter how bad people thought of him infact he really didn't care what the world thought about him, his mind was set on mostly sleeping
But despite his lazy personality when things get serious, or when he has to do something, he is usually the smarts of battle strategy. Gotoh was a very bright child and could solve battle problems quicker then others.
Nindo: (optional)
Summoning:
Bloodline/Clan:
Ninja Class: 
Gennin
Element One:
Element Two:
Weapon of choice:
Strengths:
Learning Speed - Superior
Weaknesses:
Shurikenjutsu - Below average
Chakra color:
blue
Weapon Inventory:
((You do not need to fill this out until you become a Genin.))
Maximum capacity at:
Genin  (50 pieces)
Chunin (60 pieces)
Jounin (70 pieces)
ANBU/Sage (80 pieces)
Sannin/Kage (90 pieces)
Please allocate now
Kunai (cost 2 pieces):5(10)
Shuriken (cost 1.5 pieces):8(12)
Senbon (cost 1 pieces each):5
Makibishi (cost 0.5 pieces each):0
Smoke Bomb ((Max 3) costing 3 pieces each):3(9)
Flash Bomb ((Max 2) costing 4 pieces each):2(8)
Other Weapons ((Max 2) costing 6 pieces each):1
Total:50
Jutsu List:
Transformation Technique - Rank E
Rope Escape Technique - Rank E
Generic Sealing Technique - Rank E
Chakra Manipulation/Flow
Chakra Manipulation/Flow
  Tier I -    able to controll the flow of chakra through the Body and spesific body parts but not to enhance the strength of any body part. - D rank 
Allies:
((Your village ect.))
Enemies:
((Your enemies, rivals))
Background Information:
Gotoh lived at a small end of the yonshi village, his family was full of lazy people so it slightly rubbed off on him though he had the skills to use his down time to focus on school and books so he wasn't stupid. He learned behind the glass, always observing and when he gathered enough about everything, he did nothing. As he started his life more as a ninja he began to contimplate and contradict the Shinobi system. It felt off to him, but he was already positive it would take more then just him to change it so he never brought it up as much. He never had the ambition to. Now Gotoh is in the academy about to graduate into a gennin. Gotoh Isn't excited what so ever but keeps a calm mind so he doesn't get in trouble at all.
Roleplaying Library:
Approved by:
Itsumo Yamanaka 1/29/2015